Under the cut you can read all about my adventures at the Port Fairy Folk Festival, some of which involve Luka Bloom :)

We spent this weekend at the Port Fairy Folk Festival...

Day 1 - 09/03
We drove down to Port Fairy in our 'Wicked Camper' after school, leaving the house and the cats in the capable hands of my brother, Jesse.
We were told the trip would take about 3 hours, but it took closer to 5. But we were happy to cruise, so it was fine.
I didn't take any photos because I was trying to keep my eyes closed because of a bad headache.
When we arrived, we checked in, met the proprietors of the caravan park, then went for a walk into town to clear our heads get our bearings, and register. Then we walked straight back to the van and went to sleep cos we were stuffed.





♥





Day 2 - 10/03
Naturally, the first thing I did when I got up was take a photo of our camper. We actually had quite a good sleep in it.



Our home away from home

Then we discussed which acts we wanted to see, while Saj made breakfast like an outdoorswoman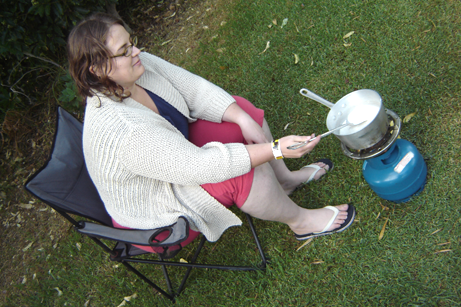 Outdoorswoman

We had no idea what to go and see, so in the end we pretty much set up camp at 'Stage 3', where Luka would be playing at 8pm, and stayed there from just before 11am. The was very fortuitous, becase it led us to discover some brilliant artists:


11am: Lil' Fi
She was fun, and had a big, big voice. Not my favourite act of the festival, but worth listening to, for sure.


12.30pm : Vin Garbutt
Wow! Wht a storyteller! What a guitarist! This guy was just so funny. He kept the audience in the palm of his hand by involving everyone in the singing, and telling us stories about his recent HEART SURGERY in an hilarious manner. He also had a wicked accent a la Ross Noble. Actually, he kind of is Ross Noble, fast forwarded about 50 years :p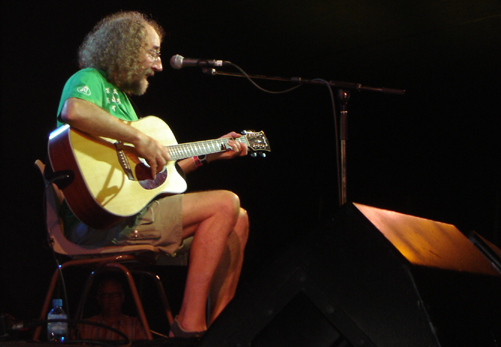 Vin Garbutt

After his set I went and bought his CD, and met the man himself. He was just as funny offstage as he had been on.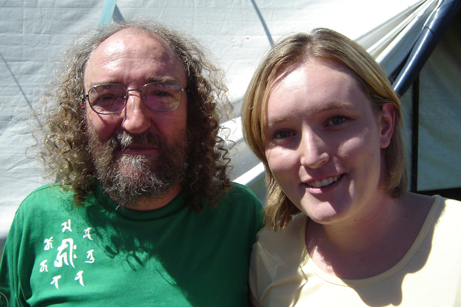 Vin Garbutt + Essie


1.30pm: Keith Donnelly
This guy was more of a comedy act than anything else. The best part of his act was when he dressed up in an inflatable cowboy suit and sang 'YMCA'. He was a good laugh, but we didn't love him enough to buy his CD.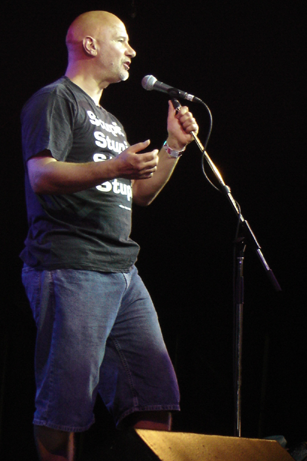 Keith Donnelly


3.00pm: Jigzag
These guys were totally awesome They were kind of in the spirit of The Waifs, but had their own thing going on. Wicked fiddle, strong vocals, great guitar and sexy double bass. Love, love, loved them. Bought all their CDs.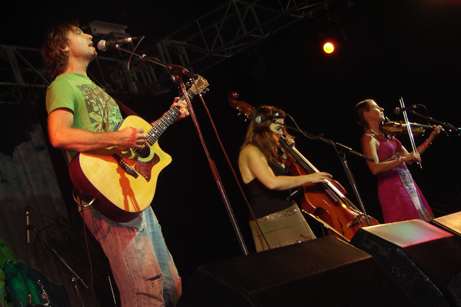 Jigzag


3.45pm: Kate Miller-Heidke
Here was an interesting one. Her songs were quirky, and she was actually a very talented singer (obviously classically trained). She attracted the alterna-shiny set of teenagers, which was kind of irritating, but I can't really hold that against her. In the end I found her style a bit affected and contrived. She talked in a bit of a high pitched baby voice and it pissed me off... I can't deny, however, that she is a talented musician.
I didn't take any photos of her.


4.45pm: Fiona Boyes and the Fortune Tellers
This woman won the Maton Artist of the Year awards. She was an amazingly talented guitarist, but overall her style wasn't to my taste. A bit too country/blues.


6.15pm: The Scared Weird Little Guys
They were funny, but not as funny as Tripod.
The End.


7.45pm: Sabrina Dinan
We'd fallen in love with Sabrina last week when we saw her supporting Luka at the National Theatre in St. Kilda. She totally blew us away with her heartfelt lyrics, soulful voice and wicked guitar playing, so we were looking forward to seeing her again.
She was clearly very nervous about playing to such a big crowd (about 4,000), but she handled it gracefully, and was totally adorable.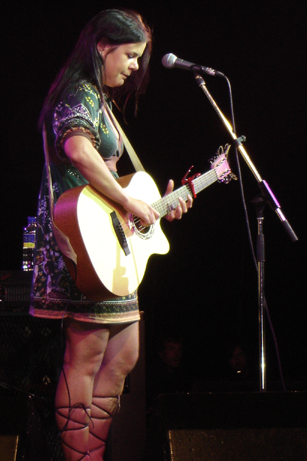 Sabrina Dinan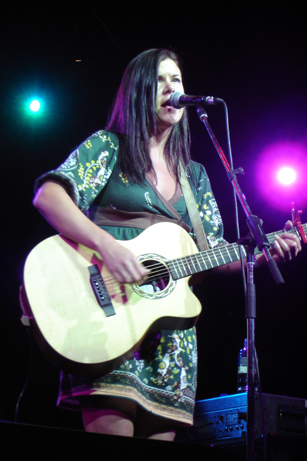 The girl is gorgeous


8.15pm: Luka Bloom
What can I say? The man is a legend.
There were issues with a faulty pedal, it kept making loud crackling noises. He played on til it got too bad, then he did an impromptu a capella number while the roadies fixed it up. Grace under pressure.
The setlist was very similar to the one he'd played at The National a couple of days earlier:



Setlist:
Throw your arms around me
Here and now
Love is a place I dream of
Innocence
Tribe
Lebanon (this is where the sound stuff happened, so he did...)
I'll walk beside you
(then everything was working again)
Make you feel my love
City of Chicago
Can't get you out of my head
No matter where you go there you are
Sunny sailor boy
(encore)
Exploring the blue
You couldn't have come at a better time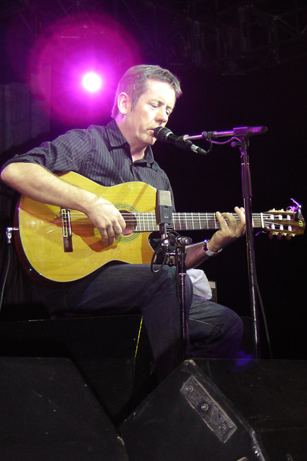 Early in the set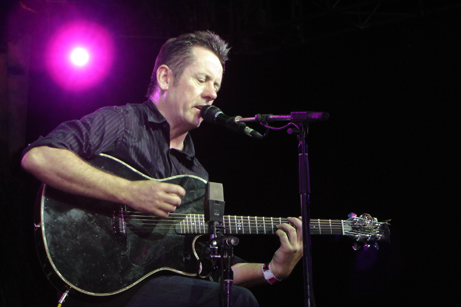 During the encore

Possibly the best photo I've ever taken

After the gig I went to meet Luka and Sabrina. They were so kind to everyone who turned up There were hundreds of people there, and Luka took the time to talk to all of them
I was the very last person to see them...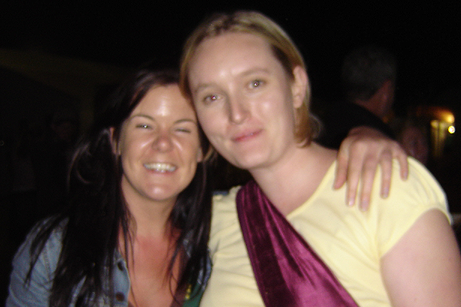 Sabrina was so sweet!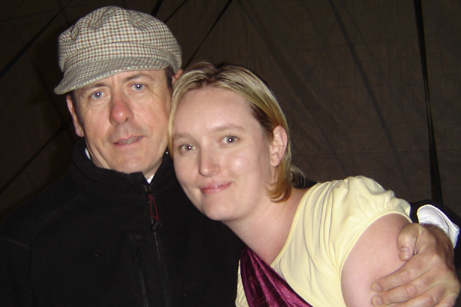 Luka gave me a big hug. Sabrina took this photo :)

Unfortunately I look like shite in both of those pictures, but it's the memory that counts, right?

Saj went to see Madviolet while I was schmoozing with the stars, and she thought they were great. By about 11 we were heading back to the camper and to bed.





♥





Day 3 - 11/03
It was a bit rainy and overcast on the Sunday, but nothing too dramatic. We weren't sure what we wanted to see (again) so we just wandered into 'Stage 5'...

11.45am - Oriel Glennen
She was an awesome guitarist, and her lyrics were lovely, but I found the vocal a bit lacklustre and that made the whole thing a little flat. She was definitely a very emotional performer, and put a lot of herself into her songs and I appreciated that aspect of her prerformance.
She was joined on stage by Gavin Moore, with whom she'd worked while she was in Ireland some months ago. Gavin Moore is Luka Bloom's nephew. I have to say, withouth bias, that he had a really great voice. I was sorry to miss his solo gig at the Port Fairy Fringe, and will definitley be keeping an eye out for his CD.


1.15pm - Women in Docs
I've been a fan of these girls for a while, so I was stoked that they were playing. It was weird to see them play during the daylight hours instead of in a smoky pub at 11pm, and I think it was a bit strange for them to be performing in that context too, but they did good job. Instead of it being just the two of them they had a drummer (whose name I've forgotten), and Silas Palmer with them on the fiddle and keyboard.
I totally forgot to take photos!


(2.15 - Christine Anu)
We decided to go over to 'Stage 3' so we could work on gradualy moving closer to the front over he course of the day so we could get a good view for Luka by 8pm. When we got there Christine Anu was playing and the security guards weren't letting anyone into the venue.
We got to hear Christine from outside the venue and she sounded great. The woman has a fantastic voice. Unfortunately, I'm not that big a fan of her style of music. It was good to hear her live, though, cos you could really appreciate her talent.


3.45 - Laura Love
We were allowed into the venue when Christine Anu finished, and got ourselves a pretty good spot. The next person on the program was Laura Love, a woman about whom we had heard nothing.
She rocked our frickin' socks off.
The woman had a beautiful, bubbly, joyful stage presence, and her voice was just amazing. She played the bass, and the only other muso on stage with her was a fiddle player, so the whole set had a really ineresting dynamic, and was really vocally driven.
I forgot to take photos AGAIN! Raaa!


5.00pm - Lior
This guy had a big rep, and he drew quite a big crowd (those alterna-shinies and emo kids again!), but we found him reasonably forgettable. He had a nice vioce, and was undoubtably an accomplished guitarist, but his songs all sounded pretty much the same.
He was perfectly pleasant to listen to, but in the end we couldn't see what all the fuss was about.
Still no photos!


6.15 - Eric Bibb with Danny Thompson
I made some pretty fantastic musical discoveries in the course of the festival, but this guy was the best. He radiated energy, joy, and enthusiasm. His sheer happienss just to be there making music rubbed off on the whole crowd who were clapping and swaying and dancing along with him just two minutes into his set.
Eric's voice was deep and rich, and his lyrics deeply evocative. His bluesy style was reminiscent of his hero B. B. King, and other greats. For this gig he was joned by double bass virtuoso Danny Thompson, and the tones of the bass blended so beautifuly with Eric's vocal that it gave me shivers. This was one of those gigs - absolutely unforgettable.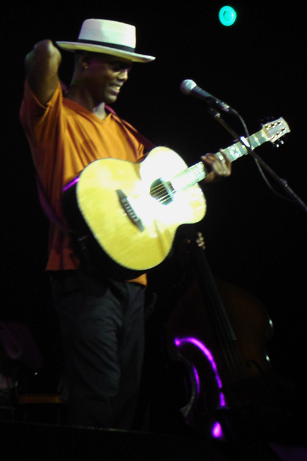 Eric Bibb


8.00pm - Sabrina Dinan
Sabrina seemed more comfortable this time, and did a great set. It was the same setlist as the previous night, but it worked well. She looked adorable, and the audience warmed to her even more than the day before.


Isn't she the cutest?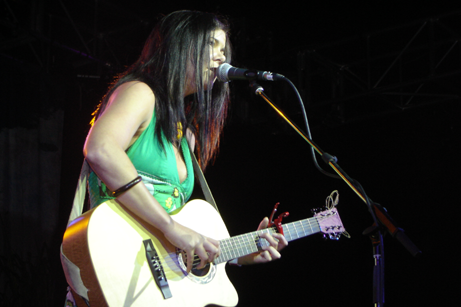 She's had a cuter dress every thime we've seen her :p


8.30 - Luka Bloom
This was the best gig by far. There was another act on after him, and if there hadn't been I think he woud have kept going all night. The crowd were so into him, and he was obviously having a really good time.



Setlist:
I am not at war
Love is a place I dream of
Innocence
Thank you for bringing me here
Lebanon
Tribe
I can't get you out of my head
City of Chicago
No matter where you go there you are
Sunny sailor boy
I need love
Bogman
Diamond Mountain
Gone to Pablo
You couldn't have come at a better time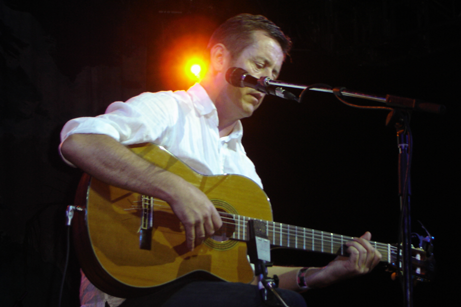 I took these two pretty early on in the set and then completely forgot to keep taking photos.

♥♥♥♥♥♥





♥





Day 4 - 12/03
We thought we might go and see some acts today, but by the time we got up and organised it was really time to head home.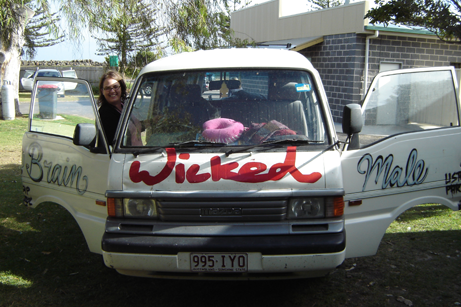 Saj, the driver - I slept most of the way home :D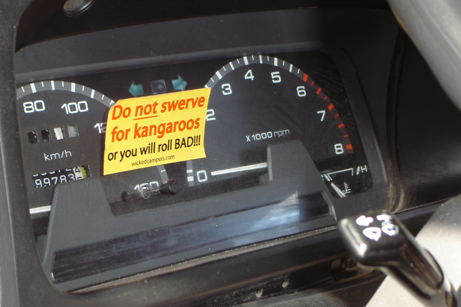 A warning for the international driver
Clear instructions on the van's dash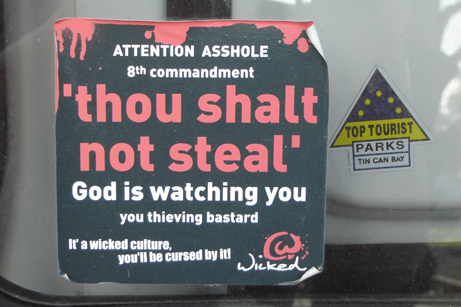 The van's security device



You can download the show, and other acts from the festival at www.liveband.com.au, where 50% of the money goes directly to the artist.